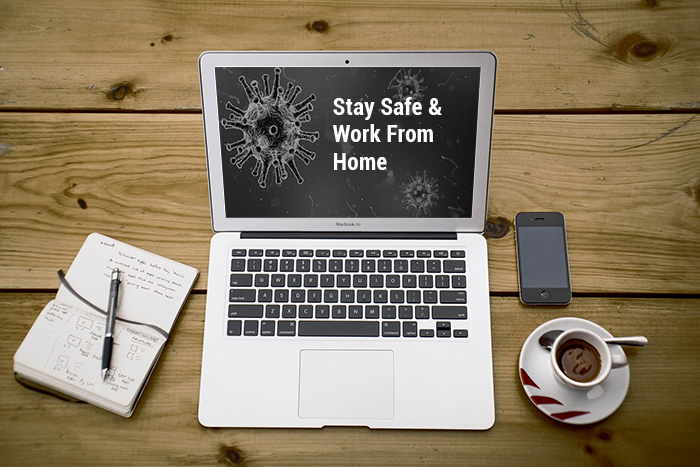 Coronavirus (COVID-19) has taken the world by storm. Many of us are worried about the current climate and how to proceed in these uncertain times. Globally, businesses and individuals are doing their best to adapt to the changing situations, with many staying indoors for health and safety reasons. As many businesses shift from offices to remote work, employees at all levels attempt to adapt to the new reality.
For those that are able to work from home, it can sometimes be daunting changing a routine. Being used to commuting, changing space and environment, breathing different air, staying home can feel daunting. Moreover, office communication and transparency, agenda setting and collaboration are all key in bringing a company forward. As we all attempt to move forward together, Here are some tips and free tools for your business to use to make remote work and working from home a little easier.
Most of these tools are free to use, they may have different pricing packages and trials available, so as you get into a new routine, find what works best for you and your employees.
Task Management Tools
Asana: With its incredibly easy-to-use interface, Asana doesn't add much to your routine and helps you stay on top of the most essential tasks to handle. You can add subtasks, attachments, and create different projects for tasks so they remain divided and organized.
Slack: Slack combines to do lists and organization with team communications. It brings direct messaging used most often in social media in order to enhance productivity at the company level. When the whole team is working remotely this can be a very efficient way to check in and discuss projects. You can also integrate different apps like Google and Asana into your Slack profile, that way you don't have to continuously switch tabs and pages, everything is on one platform.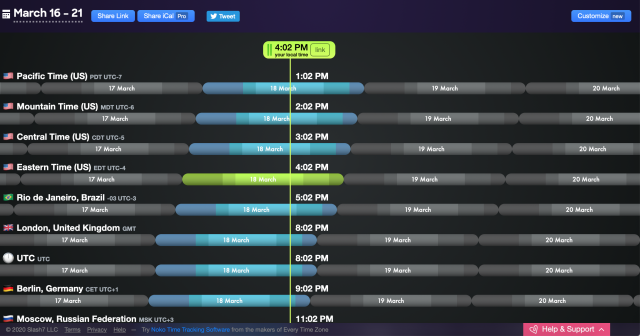 Snapshot of www.everytimezone.com
Utility Tools
Every Time Zone: When working with individuals and teams that are scattered among different time zones, Every Time Zone becomes a necessity. You can customize the time zones you see according to the different locations your colleagues are in.
Sharing Tools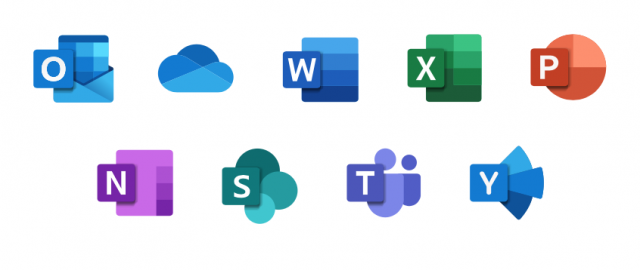 Applications part of Office 365
Office 365: Office 365 offers an array of benefits for those working remotely. From saving on the cloud to creating docs on the go, Office apps can help you create projects and keep your files organized and ready to view/download.
GSuite: GSuite can help you keep all your essential documents remotely, while also sharing them with colleagues and collaborators. Google Docs is useful for teams that work on the same item collaboratively, as edits can be made in real time by all individuals signed onto the document, and those with editing permissions. With lots of free storage space, GSuite can become very useful to keep documents at the ready and organised for all to use.
Dropbox: Similar to cloud functions in Office 365 and Google Drive, Dropbox helps individuals work with each other by sharing files easily through the app/website.
Box: With advanced security controls and an easily navigable interface, Box makes it easy to keep files safe and easily accessible. Creating workflows is easy and thanks to the approval function, employees can easily hand off work to the managers/directors for approval.
Communications/Meeting Tools
Team Viewer: This tool comes handy when conducting meetings remotely. It allows participants to share a screen, take control and present their ideas collaboratively.
Skype: Part of Office 365, Skype allows individuals to hold voice or videocalls. Skype allows offers Meet Now function where individuals can join a call even without having a Skype account, the call is joined through a shared link. This facilitates remote communications tremendously.
Remote Access Tools
Logmein: Logmein allows you to remotely access your computer from any device allowing individuals to have everything they need at their fingertips.
Team Viewer: Another great function of Team Viewer is that it allows you to log into your computer and access your files remotely.
These are just some of the many resources that are out there for project/time management, communications, and file sharing. All these websites are recommended by the SLK and are safe and easy to use. If you need any assistance in finding resources that fit your specific needs or need assistance in installing them, don't forget we are just a phone call away ready to help!