SLK I.T. Solutions is proud to have partnered with some of our existing clients to create an abstract library system. The SLK abstract library system is designed and developed to allow you to mobilize abstracts to your constituencies.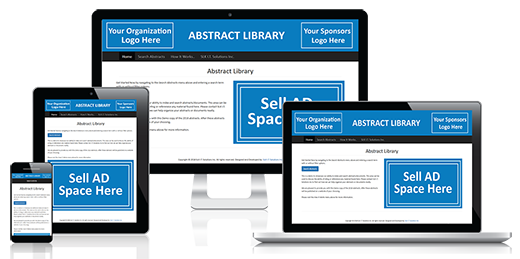 Basic Features
Our system is developed using HTML5 making it fully responsive and viewable on any device, be it PC, Mac or smart phone.
Branding Opportunities
Ensure your branding is maximized. The SLK abstract library system allows full branding opportunities both online, and on the offline USB key.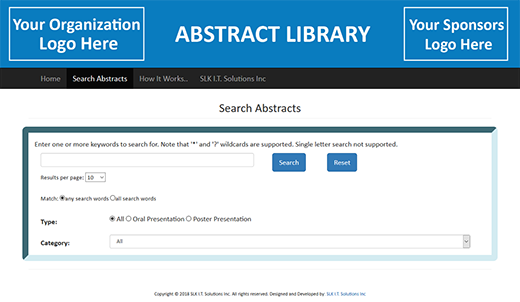 Multiple Formats
Your constituents can access the SLK abstract library using an online comprehensive, searchable platform for 3 months or longer if required. As well, provide your constituents with an offline abstract USB key that they can retain and review at their leisure.
Unlimited Abstracts
You are not limited in the number of abstracts within the online portal, nor the offline USB key.
Unlimited Sponsorship Opportunities!
You are not limited in the number of sponsorship opportunities. Bannering is available at both an online portal level (i.e. one sponsor can own the entire online platform) or at a per abstract level (i.e. different sponsors can be positioned against one or more abstracts). Sponsorshop can be placed in both the online portal and offline USB key.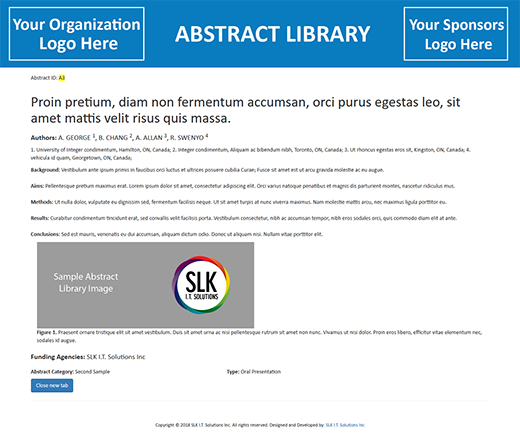 Unique Features
Our system is available to your audience online and offline via USB keys.
We have the ability to add multiple banners and advertisements giving you the opportunity to sell the ad space to your sponsors/supporters.
Our Search tool allows you to search with multiple options including searching by:

Abstract ID
Abstract title
Abstract author
Abstract keyword
Search by date
Search by abstract type
Abstract category
Sorted Results by Relevance or Date
Wildcard Searching
Highlight Words Found in Search Results
Display Images or Thumbnails alongside search results
Customizable Search page
Ability to support multiple languages
Get Started with your abstract library
If you would more information or if you would like to schedule a demo please fill out the form below or Call for details.